Roger Hargreaves books for children include the Mr Men series. Mr Tickle, Mr Bump and Mr Happy. Read his biography and buy his books.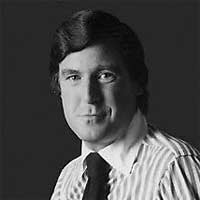 Profile
Name: Roger Hargreaves
Date of birth: 9th May 1935
Died: 11th September 1988, aged 53
Place of birth: Cleckheaton, Yorkshire
Home: Kent, England
Nationality: British
Occupation: Author, illustrator
Family: Wife, 4 children
Biography:
Roger Hargreaves' ambition was to be a cartoonist. In 1971 his son Adam asked him what a tickle would look like. Roger Hargreaves then decided to create his first Mr. Men book called Mr Tickle. He found it hard to find someone who would turn his work into books but once he did, he sold over one million copies in three years.
Ten years later in 1981, he realised the Little Miss books. The first was Little Miss Bossy.
Both the Mr. Men and Little Miss characters had their own television series called Mr. Men, first in 1974 and more recently in 2008 named The Mr. Men Show.
Roger Hargreaves died at the age of 53. But the Mr. Men carry on and now his son Adam writes and draws new stories for the characters.
Mr Men websites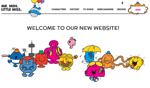 Mr Men Website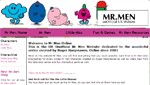 Mr Men Official UK Website
Mr Men Get Sorting
Sort the objects into the correct bins.
Mr. Men original TV series
The Mr. Men Show
Roger Hargreaves books
Shop for Roger Hargreaves books