Description
Handwriting Exercise Books bee design for KS1 & Foundation Stage. Key Stage 1 & Foundation Stage includes reception, years 1& 2. These books are perfect for children that are starting to write. Learn to control your writing with wide guidelines to keep the text the correct size.
Features
Size of book 21.59 x 27.94cm (8.5 x 11in).
120 white pages.
Gloss cover.
Full page grey ruled lines with guides for tall letters, hanging letters and small letters.
Large spacing for beginners.
Includes a parents guide on how to help your child with their handwriting from 3 -11 years old.
Handwriting Tips
It's important to keep a check on your handwriting to check that it is neat and that people can read it. To ensure you have good handwriting make sure:
You are sitting comfortably with your feet on the floor.
Letters are all sitting on the line.
Small letters are all the same size.
All the words and letters are spaced out evenly.
Letters are all slanted in the same direction.
The writing is joined up.
All the letters are of the same style.
Some else can read your writing.
Practice your handwriting every day to work at having neater writing.
If your handwriting needs improving in several areas try just changing one thing a week.
Concentrate on improving one thing at a time makes it easier to remember.
More information on how to help your child with their handwriting can be found on our Handwriting pages on our website.
This book is printed by Amazon.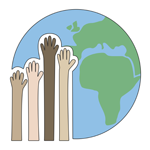 Education for everyone
Super Brainy Beans supports charities help children get a better education all around the world. We will donate 20% of our profits to organisations working to improve education in underdeveloped and difficult areas. By buying our book you can be happy knowing you have helped your child's education and the education of other children around the world.