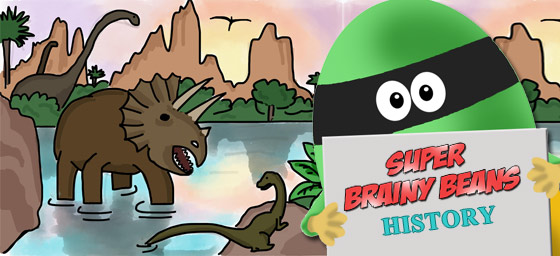 Dinosaur games online
Dinosaur games online and dinosaur facts for kids learning at Foundation Stage at Primary School. Homework help on the history of the Dinosaurs.
Time: 230 million - 65 million years ago
What were the dinosaurs?
225 million years ago dinosaurs evolved from reptiles. Dinosaurs were different to reptiles, who had four short legs, as they longer legs and some even changed to have only two longer legs on the ground and two shorter legs that looked like arms. This made the dinosaurs the largest, strongest, and fastest animals in the world.
Dinosaur games
Meat-eaters and plant-eaters
The first dinosaurs to walk the earth were meat-eaters. Called theropods they walked on their two back legs and had very sharp claws for ripping meat.
The biggest dinosaurs were sauropods. These were plant-eaters with large bodies, small heads but extremely long necks and tails.
Other plant-eaters were ornithopods which could run on their back legs to escape from predators. The plant-eaters who were too big and heavy to run from predators developed horns, clubs and spikes to protects them from meat-eating dinosaurs.

Reptiles
Reptiles still lived when the dinosaurs were around. There were swimming reptiles and flying reptiles. There were two types of sea reptiles, ones that looked turtle-shaped called placodonts and ones that had long thin bodies and webbed feet. These ones were called nothosaurs.
Flying reptiles were called pterosaurs. Pterosaurs had big, leathery wings, short necks and long bony tails.
Places to see Dinosaurs
What killed the dinosaurs?
66 million years ago the dinosaurs became extinct (died out). Some scientists say that a meteorite ( enormous rock) hit the earth and the dust cloud from the impact would have made the earth cold and dark for months. With no light and warmth, plants would have died so that the dinosaurs would have no food, and there would have not been enough heat on earth for any living creature to survive. Strangely some lizards, snakes, birds, insects and amphibians did survive. Some can produce their own heat so did not die when the planet was so cold. This was the start of the animals we have today.
Dinosaur facts