Queen Victoria & Victorian children
Queen Victoria & Victorian children living in Victorian times. Facts and information for kids learning KS2 at Primary School. Homework help about the history of the Victorians, Victorian children and Victorian life.
Time: 1839 - 1901
Who are the Victorians?
The Victorians were the people who lived when Queen Victoria was ruler, which was from 1837 to 1901.
Queen Victoria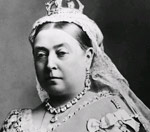 One of the most famous queens in history, Queen Victoria became queen when she was just 18 but went on to rule for over 60 years.
Victoria married her cousin Albert in 1840 and together, they had 9 children. They liked to celebrate Christmas. Albert loved Christmas trees with candles and soon many families had trees at Christmas. The first Christmas card was sent in 1843 with the Queen also sending them. She also gave presents to palace servants.
Victoria and Albert took holidays on the Isle of Wight at Osborne House and visited their home in Scotland, Balmoral Castle.
When Prince Albert died in 1861, the Queen was so upset that she would wear only black which is normal for someone in mourning to wear for a short time. The Queen however, wore only black for the rest of her life. She died on 22nd January 1901.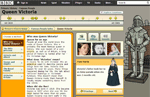 Queen Victoria
Who was Queen Victoria? What was the Royal Family like in Victorian Britain?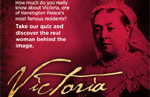 Queen Victoria Quiz
Take this quiz and find out how much you really know about Queen Victoria.
What was life like in Victorian Britain?
In Victorian times, numerous factories existed in many parts of Britain. The factory owners were rich and live in grand houses whereas, the workers who were paid very little, lived in dirty crowded parts of the town. These were called slums.
Poor Victorian children
Poor Victorian children had to live in slums. Tiny houses were found on narrow streets and had no inside toilets or running water. The homes would be damp and filthy so it was easy to catch diseases. And to make things worse, the air was thick with smoke from the factories.
Children had very few luxuries and they had to work long hours and ate poor food. Because they were so poor, many of them had to steal food or money to survive. There was no money for toys so they made their own entertainment by climbing trees or lamp-posts or paddling in a stream. Often some children were too sick and hungry to play.
Rich Victorian children
Rich families could afford to live in much larger houses and children had a room for themselves called a nursery. A nanny would look after the children and often take them to the park or zoo. They had many toys to entertain them and they ate well.
Follow Super Brainy Beans's board Victorians on Pinterest.
What did rich people eat in Victorian times?
Their diet would consist of a lot of meat like venison, chicken, pork and pheasant. They would also eat root vegetables such as carrots, onions, turnips and potatoes.
Poor people tended to eat bread, milk, cheese and potatoes and could only afford to buy meat once a week.

Workhouses
People who couldn't work or had no money had to live in places called workhouses. It was like a prison and once inside, it was hard to leave. Workers had to work very long hours.
Life was hard working in factories too. There would be long hours and unsafe environments. Workers started a trade union. This is a group of workers who get together to fight for the rights for a better working environment, better pay, and better hours. If the workers wanted to protest about something they would all stop working and go on strike.
School
At the beginning of the Victorian period, parents would have to pay if they wanted their child to go to school. By the end of the Victorian period, children had to go to school until the age of 12 and this was now free. But school life was tough. The teachers were very strict and often beat pupils.
The Crimean War
In 1854 Britain went to war with Russia. Russia wanted to take control over more land in Europe but Britain was worried that if Russia was successful, they would carry on to British India and want that as well. During this war, Florence Nightingale helped wounded soldiers and Queen Victoria would send warm hats and scarves for the sick.

Also on Super Brainy Beans