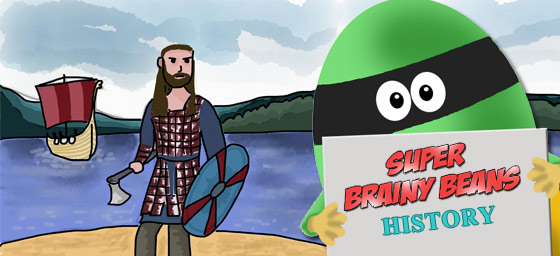 Vikings for kids
Vikings for kids learning in KS2 at Primary School. Homework help on the history of Vikings, who they were and where they came from.
Time: 750AD - 1100AD
Who were the Vikings and where did they come from?
The word Vikings probably means 'pirate'. They were fierce fighters that came from Sweden, Norway and Denmark. They were often farmers and when the Vikings did not have enough land to farm they started to attack other countries for new land.
For 300 years the Vikings arrived in other European counties in boats called longships. They would rob towns and villages and invaded large areas of Britain, Ireland, France & Italy.
Viking Facts

Places to see Viking history
What happened to the Vikings?
Eventually, the Vikings became less violent as they settled in the new countries.
Vikings that settled in Northern France were known as Normans (Northmen). This part of France is now known as Normandy.
The Vikings that settled in eastern Europe were known as Rus (redheaded people). This is now known as Russia.

Follow Super Brainy Beans's board Vikings on Pinterest.
Also on Super Brainy Beans